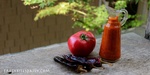 Print Recipe
Homemade Hot Sauce
This is a fun recipe, especially using Pedro's secret trick.

Combine the onions, garlic, and tomato in a large saucepan. Cook over medium heat. Bring the mixture to a simmer, then turn the heat to low. Simmer until the vegetables are completely soft and the mixture has reduced by almost a half.


While the tomato mixture is simmering, place the peppers on a piece of baking parchment atop a small baking sheet.

Roast the peppers at 450 degrees until they are blistered all over.


Allow the peppers to cool enough to handle.

Cut off the top of the peppers with the stem. Scrape out some of the seeds if you want to reduce the heat. Pull off whatever skin is loose and discard the skin.


Chop the peppers a bit with a chef's knife.

Work your fingers into the lemon slice to help neutralize any heat that may be lingering there.


Place the finished tomato mixture and the roasted peppers in a blender or food processor. Blend it to as smooth a mixture as you like.

Store the salsa in an air-tight, nonporous container in the refrigerator....