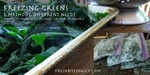 Print Recipe
Freezing Greens (Cooked)
You can freeze greens raw or cooked. Here is your option for cooked greens.

Put on a large pot of water to boil.

Tear the greens into usable cooking sizes if they are large.

Wash the leaves well.


Add the leaves to boiling water for five minutes.


Discard the boiling water through a strainer or colander.

Run cool water over the leaves to cool them quickly.

Once the leaves are cool, grab a handful, squeeze out the water, and place the leaves in a quart-sized freezer bag.